Tips for building owners
August 17, 2020
Our office is closed to the public. However, payments can be made over the phone, online, in the mail or dropped in our drop box.
March 19, 2020
Your Water continues to meet or exceed State & Federal Guidelines
March 18, 2020
Click the link below for CDC guidance related to COVID-19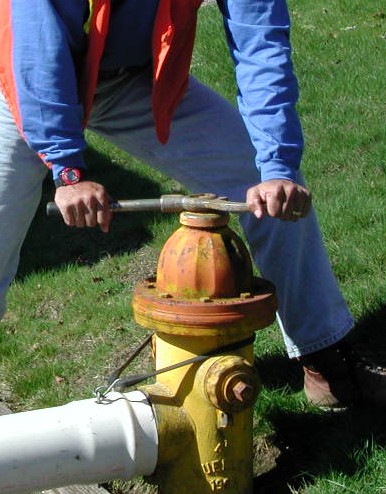 2021 Annual Hydrant Flushing
Flushing will begin May 10, 2021
Click here to find out more.

Lakewood MUA presents at Meeting Sponsored by the Association of Environmental Authorities of New Jersey
February 11, 2014
February 11 - Executive Director Justin Flancbaum and IT Coordinator Raph Copeland joined host David Stupar (Director, Information Services at Ocean County Utilities Authority) at an IT Manager's Breakfast sponsored by the Association of Environmental Authorities of New Jersey, presenting on a variety of IT topics to a full house of industry professionals. After Mr. Stupar's presentation, which centered heavily on Virtualization, Cloud Software and Network Security, Mr. Flancbaum and Mr. Copeland spoke and took questions on these and other topics, including paperless technologies, office workflow solutions and the future of IT in the water sector.

LTMUA Executive Director named to Board of the Association of Environmental Authorities of NJ
January 27, 2014
LTMUA Executive Director Flancbaum named to Board of the Association of Environmental Authorities of New Jersey
From AuthorityView Magazine, Volume XXXIX Number 1 Winter 2013

Justin Flancbaum is relatively new to the industry, becoming executive director of the Lakewood Township Municipal Utilities Authority in mid-2009. But he's learned a lot very quickly, which he credits largely to his membership in AEA.

"To serve on the board is a great opportunity for me personally because when I interact with the other board members - and the other members in general - I always learn something. There's a lot of knowledge there, and I'm thankful for it."

Before Flancbaum worked for the municipal authority, he was in real estate development and construction, where he became quite familiar with water and sewer issues. He feels that in today's economic climate, utilities authorities are under more scrutiny than ever and need to be very responsive to the public.

"We live in an age where everybody has everything at their fingertips. Maybe 20 years ago nobody thought of the local utilities authority, but now it's common knowledge," he says, adding that the board has a great opportunity to educate people about the role of utilities authorities.

After his MUA installed a $3 million water meter upgrade (see his article in the Fall 2012 Authority View), he was asked to speak at a local housing development. "I was happy to do it. It wasn't my idea but it was a good idea. I'm not a professional speaker, but I certainly don't shy away from these things."

He got another chance to speak about the industry recently when he, along with several AEA members and representatives of two private sector water companies, met with Assemblywoman Grace Spencer, who chairs the Assembly Environment and Solid Waste Committee. The Chairwoman invited AEA to share its expertise as part of a briefing on the water and wastewater infrastructure of the state.

"I think this was a real learning experience for her," he says. "We really had a great discussion . . . Opportunities like that are out there and I think they are great things for us to do."

A Third Of Lakewood Saved From Chillul Shabbos - Water Meter Redesigned In Light Of Shabbos Concerns
July 03, 2013
A Third Of Lakewood Saved From Chillul Shabbos - Water Meter Redesigned In Light Of Shabbos Concerns From www.yated.com
Wednesday, July 03, 2013

By Eli Braun
Living in Eretz Yisroel is great. The reasons for that are obvious and too abundant to enumerate. But one of the advantages that is somewhat unappreciated, if not completely unnoticed, is the benefit gained by the frum community due to the fact that the people in power understand their needs. The mayor knows about Shabbos, the city councilman understands kashrus. Sure, there are frictions and tensions, but, for the most part, one doesn't need to explain why he can't attend a certain event or must skip a Yom Tov meeting. There are no Yom Tov meetings.

To a much lesser extent, we, here in Lakewood, enjoy a similar benefit. No, we don't get off for the Yomim Tovim, but the local government officials, even the non-Jewish ones, have come to understand our needs and have tried to accommodate us in the best way possible. Moreover, the representation in government by frum politicians and bureaucrats has served us well over time. A recent incident, in which a large number of Lakewood families were saved from weekly chillul Shabbos, illustrates this.

The story really begins with Justin Flancbaum. A born and bred Lakewooder, Mr. Flancbaum has served as the executive director of the Lakewood Municipal Utilities Authority since 2009. The MUA is responsible for providing water and sewer services to many families in Lakewood. Although most of the town is serviced by New Jersey American Water, a private company, the MUA, which is a governmental agency, provides service to about one-third of the town.

"We currently serve about 8,500 homes here in Lakewood," Mr. Flancbaum told the Yated. "Although we are officially a municipal agency, we manage our day-to-day affairs like a private company, offering exceptional customer service and generally being responsive to our clients. In the end, they are our bosses. The taxpayers pay our bills."

The MUA system, which is common in towns across New Jersey, is actually significantly cheaper than NJAW. Mr. Flancbaum explains why.

"We don't spend money on infrastructure, as we rely on the builders and developers to do that. This allows us to use our resources in the best possible way when it comes to actually providing water and sewer. It also leads to cheaper rates for the consumer."

As Lakewood has grown, the MUA has had to adjust to the growing populace and adapt its business practices to better serve the growing population. One of those changes was an update to the metering system that had been in place for many years.

"When we began serving the public, we had the regular meters everyone is familiar with installed, and it counted the water usage by the thousands of gallons. We would send out an employee to collect the data, crunch the numbers and send out the bills. That made sense when we were serving 2,000 customers or so. But now, with that number more than four times as high, we really needed to modernize our system."

The new program the MUA was looking for would be fast, efficient and cost-saving.

"Basically, the idea was to install new meters that would have a digital display. These meters would be much more detailed, counting every gallon used, not every thousand. In addition, there would be no more need for a meter reader. Antennas would be installed on top of our water tanks, and with the push of a button, all the data in every meter throughout town would be instantly collected. This would save us a significant sum of money in the long run."

Very 21st century.

The new system would also be a tremendous boon for the consumer due to its incredible detail.

"I'll give you an example," Mr. Flancbaum explained. "Suppose you call me and complain that your water bill is too high. I can tell you that on Tuesday night at 8 p.m. you used 15 gallons. Then I will tell you that at 2 a.m. you used 40 gallons. You will immediately realize that that's impossible. At 2 a.m. you were sound asleep. That would indicate to us that there is a leak somewhere that has to be identified and fixed. With the old system, this was much more difficult."

Sounds great, right? That's what everyone thought. So with a low cost loan from the New Jersey Environmental Infrastructure Trust, the MUA began doing some trial runs, installing the new meters in several select locations to see how they would work. And then came the phone call.

"We installed the pilot program on a Thursday," Mr. Flancbaum recalled. "Later on, I got a call in my office from a builder with whom I was familiar. He told me, 'Justin, you have to take out those new meters you just installed at the home of one of my clients.' 'Whatever for?' I asked. His answer just blew me away."

Once you hear it, it's obvious. Since the display is always on and calculates every single gallon used, every sink that is turned on on Shabbos is actually causing the machine to record the new usage. This could be a problem of kesivah, as well as a host of other issues. This may have gone unnoticed or at least unappreciated had the executive director been someone else, but for a frum Yid like Justin, this was critical.

"I would never have thought of it, but once he pointed it out, I knew we had to take care of this immediately," he said.

The meter was immediately removed and replaced with the old version. The pilot program was also discontinued in any location where chillul Shabbos was a concern. In the meantime, Mr. Flancbaum brought the shailah to Rav Shlomo Gissinger, rov of Khal Zichron Yaakov, with whom he has a close relationship. "Rav Gissinger recognized the problem and felt that it must be examined thoroughly. After covering all the angles, we came up with a solution."

And so, the halachic investigation began. Rav Shlomo Miller shlit"a of Toronto was contacted and a meeting was held during one of his many visits to Lakewood. Rav Gissinger and Mr. Flancbaum attended, as well as Committeemen Meir Lichtenstein and Menashe Miller. The latter is a nephew of the illustrious visiting Rov.

"We brought a meter down for my uncle to look at," Committeeman Miller told the Yated. "While a posek can try to understand the circumstances that are described to him, he will obviously get a much better idea if he can actually see the product. We sat for quite a while going through all the issues and details."

The idea they hit upon was a redesigned meter. This one would have a lid that, when closed, would not allow the display to be active. The only way to activate the display is to open the lid. Even then, the display would only show for thirty seconds before shutting off. This would eliminate all Shabbos issues as long as the meter is not opened. They then took the new idea to Rav Miller for his approval.

"Rav Miller listened to the plan and gave a verbal approval. Sometime over the last month or so, we received a written teshuvah from him, where he examines the subject at length and paskens that the new meter is mutar for use on Shabbos and Yom Tov," said Mr. Flancbaum.

Now, the job was to actually get the meter constructed. "We contacted our manufacturer, Sensus, and asked them to redesign the meter for us."

Did they get it? Did they acquiesce to completely change their design for a few Jewish families in Lakewood?

"I explained the issue to them and I also told them that although Lakewood might seem like small fry to them now, every major metropolis with a Jewish community will be running into the same issue. New York, Chicago, Los Angeles - these are big communities. If the company would be able to provide them with something that wouldn't be a Shabbos issue, it would be a big boon for them. So they agreed to try and make us a new prototype."

After weeks of waiting, the prototype finally arrived at the MUA's New Hampshire Avenue headquarters. But after all the waiting, the new machine was a dud. It did not work properly. So they tried again.

"When I got the second prototype from the company," says Mr. Flancbaum, "I called Rabbi Gissinger and he came down to our offices. This time, it worked perfectly."

The program was now able to continue. The MUA has installed the new meters in almost two-thirds of their customers' homes and the results have been fantastic. The same can be said for Sensus, the meter manufacturer.

"They actually named it the Kosher Meter and are marketing as such," relates Mr. Flancbaum. "I got a phone call from a company rep in Toronto asking me if I could help him market it to the frum community there. I told him that Rabbi Miller is from Toronto, so that would be a good place to start!"

While the new meters are still in their infancy, it is sure to spread to other towns and cities throughout the rest of the country. For the uninitiated, this can present a major problem if a city decides to use the original version, causing mass inadvertent chillul Shabbos.

"I don't presume to be a posek," comments Mr. Flancbaum, "but it's certainly something people in other cities should look into. Maybe there will be rabbonim who will be matir, maybe not. That's not my domain by any stretch. But I'm glad that here in Lakewood, we were able to take care of it in a way that doesn't cause the klal any problems."

Committeeman Miller is thrilled with the results. "We live in a Torahdike shtut, with a large frum population, and we are always aware of their needs and concerns. This is a great example of how government officials and rabbonim come together to find a remedy for an issue that needs fixing. Even in this age of technological advancement, there are solutions and we can make things right if these matters are brought to the attention of rabbonim."

It's nice living in such a town, no?

Carrying the Water: A Look at the Municipal Utilities Authority
September 14, 2011
Carrying the Water: A Look at the Municipal Utilities Authority

From Hamodia, September 14, 2011
By Shloimy Blau

"This is an example of government doing a better job than the private sector," says Mr. Justin Flancbaum.

Mr. Flancbaum is no politician or liberal thinker. He is an enthusiastic thirty-year-old frum Lakewood native who has served as the Executive Director of the Lakewood Township Municipal Utilities Authority (MUA) for the past two years. And, for the record, he says that his political leanings are fairly conservative.

Unique Agency
To be fair, the MUA bears various distinctions from a typical government agency. It is officially termed a "quasi-autonomous government entity," which is not funded by taxpayer dollars or run by the municipal government. Flancbaum says that this independence was purposely designed to run an austere, efficient agency that is free of the politics and red tape associated with governmental affairs.

All major policy decisions, however, must be facilitated through a group of commissioners that are appointed by the Township Committee. The MUA's leadership includes Senator Robert Singer and P.G. Waxman of Waxman Realty; Township Committeeman Ray Coles serves as the treasurer and Township liaison.

The concept of municipal utility authorities was introduced in New Jersey in the 1960s. At the time, sewage systems were aging, and many dangerous spills and backups took place. The State felt that agencies focused on utility infrastructure would best be able to handle the threat.

Some New Jersey utility authorities assumed responsibility for locals' electricity as well, but most, including Lakewood's, merely carry the water for the local water supply. The local MUA and its predecessor, the Lakewood Water Company, acquired large wells in the Route 70-area that were built to supply the neighborhood's senior communities with water.

Split Responsibility
With the MUA's acquisition of the Route 70-area water supply decades ago, it has set itself up as the water provider for that neighborhood. The agency now provides water for roughly 30% of Lakewood and covers various neighborhoods in the Industrial Park and the Ridge Avenue/Raintree sections of Lakewood. The remainder of Lakewood is serviced by New Jersey American Water Company (NJAW). The MUA also has an emergency connectivity agreement with Brick's utility authority and can obtain water from their reservoir if necessary.

Both the MUA and NJAW do not handle their customers' sewage themselves, though customers incur sewage-related charges. Sewage is collected by the entities and transferred to the Ocean County Utilities Authority, which treats and dispenses the County's waste in a plant in Brick.

The MUA's infrastructure can handle as many as 5.2 million gallons of water a day, as per the State's Department of Environmental Protection (DEP) regulations aimed at preventing the ground's water supply from drying up.

The DEP regulates and closely monitors how much water is drawn from each particular well, and the MUA must balance its usage of each well accordingly on a daily basis. The DEP also strictly limits the presence of potentially harmful elements in the water, and the MUA sends the State agency detailed weekly reports of the contents of its water supply.

Flancbaum says, however, that the MUA takes care not to exhaust its maximum capacity and will often purchase some of its water supply, which is typically below four million gallons a day, from NJAW or other sources.

At the end of the day, MUA customers pay roughly half the rate of NJAW customers and deal with local people, not an international corporate conglomerate, to resolve any issues.

Managing the Money
Flancbaum attributes the low rate, which he says is from the lowest in the State, to the way the agency is run. The MUA is run by salaried employees and commissioners, who gain nothing from increased revenue, and none of the revenue goes to general government coffers, nor are they bound by other political considerations. The rates are designed merely to cover costs and an annual allocation to a reserve for future expenditures.

The agency employs a total of twenty-two people for all office and field work and contracts out major repair and development projects to private contractor bids. Flancbaum says that the MUA is run by very rigid spending standards and shuns any unnecessary expenditures. Any infrastructure expansions necessary to connect water mains to new housing is covered by the developers of the residences.

Flancbaum proudly points to his business card and explains that it does not bear the agency's new logo, which was designed inhouse at a nominal cost. "We won't print new cards until we run out of the old ones," he says.

The agency has an operational budget of $3.4 million a year, which, for the most part, does not include costs for expanding water supply capacity. These expenditures are, when approved, borrowed from the state's Environmental Infrastructure Trust, to be repaid at a very low interest rate over two decades.

By now, the MUA has twelve wells, including six on Shorrock Street (off Route 70) and two behind the agency's headquarters on New Hampshire Avenue. With Lakewood's astronomic population growth, the MUA estimates that it will serve a 40% larger customer base by 2025 and has plans to add as many as four new wells over approximately the next five years.

Flancbaum concedes that if the MUA would have to expand to the degree that private water companies have to in order to accommodate explosive population and wouldn't have access to special development funds, their rates would be higher than they are today, but he insists that they'd still be far below the rates charged by for-profit conglomerates.

Keeping Up With the Times
Frugality and all, the MUA is consistently modernizing its infrastructure and operations, though some of its decades-old existing wells are still doing just fine and are being left intact. "You just don't purchase an analog phone these days," Flancbaum says. "If you're not up to date, you will get lost."

The agency has, in recent years, upgraded its water-treatment plant near the Shorrock Road wells and is completing a new well and ultra-modern treatment facility at its New Hampshire Avenue headquarters. Water from all MUA wells throughout Lakewood will soon be treated at these two plants, which will eliminate the current need to treat water at each individual plant, which will save a lot of extra labor and prevent inefficiency.

After the new facilities are up and running, the entire MUA infrastructure will be part of a Supervisory Control and Data Acquisition (SCADA) system. SCADA is a computerized system that monitors every aspect of the infrastructure and operation and reports to a central system that can be accessed by MUA employees and efficiently dealt with. Even slight defects, such as a broken filter, will be instantly identified.

Another major recent change relates to the MUA's quarterly billing system. The MUA still has an antiquated meter system, where meters are read individually by an employee and the reading is manually noted on paper. The skeletal office crew is then tasked with manually entering the readings into the computer and arranging the bills. Understandably, this process is time-consuming, cumbersome and results in many unread meters and inaccurate bills.

The agency has successfully tested a new "Fixed-Base Radio System" on over 100 homes. With this system, precise water usage information from each meter is relayed to the MUA via a radio system every six hours. No person has to ever personally visit the home, and any tampering attempt is automatically reported.

Questions concerning the new system unexpectedly arose from many frum MUA customers. The new meters have digital displays and raise potential halachic issues on Shabbos, since increased usage causes a new number to be displayed and may be a violation of the melachah of kesivah. The MUA has thus adjusted its plan and will adapt the old meters to the new radio system in frum neighborhoods or install an alternate acceptable meter. In less than two years, the vast majority of MUA customers should be utilizing the new system.

Collecting the Cash
As with any service, the MUA has its share of customers who are behind in payment. Though the agency has the power to shut the water supply to delinquent customers, they tend to resort to other measures. The most common collection method is through selling the debt at a Township auction, where the customer must repay the debt plus interest in order to get a lien for that amount off the property. Municipalities tend to hold similar "tax sales" for property taxes.

Flancbaum says that this approach fits into the broader context of the semi-government agency. "Our goal is to service Lakewood residents, not to earn profit," he explains. "We thus operate with fairness and compassion and look to avoid shutting the water off from struggling customers."

The agency's employees, all Lakewood region residents, also patiently discuss billing issues and rate hikes with customers. Executive Director Flancbaum expresses sympathy for customers, especially seniors living on fixed incomes, who express concerns about minor rate hikes. He sometimes personally explains the necessity for the rise in cost to the customer. One tactic that he uses is particularly effective. "I tell them how much my NJAW monthly bill is, and they don't find their bill expensive anymore!" he says.
Flushing Notice
April 22, 2021
NOTICE
Please be advised that the Lakewood Township Municipal Utilities Authority will be conducting
our comprehensive annual flushing of water mains commencing Monday, May 10, 2021 and continuing through (approximately) the end of June 2021.
You may experience some discoloration of the water or a temporary decrease in pressure while crews are working in your area. Should this occur, please run your cold water later in the day until it clears. If you are planning to replace your water filter, please wait until after the Authority has finished flushing.
We apologize for any inconvenience this may cause and thank you for your understanding.